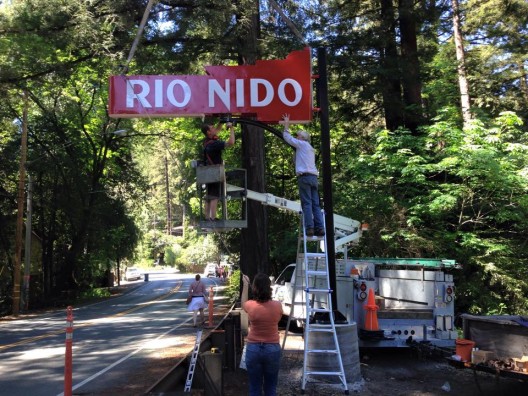 HUGE thanks to all of our generous donators for helping us get across the goal line! We could never have done it without the three grants provided by the Sonoma County Board of Supervisors through the Advertising Program.
A special thanks to all our donors!
Another round of thanks to the folks who stored the sign for us all these years… Larry and Elena most recently (for a year or more, whilst we sorted out funding, grant applications, and various committee processes). And even more unbelievably, for more than twenty years Vicki and Jim Cronander stored the sign in their little wooden shed, waiting for the right opportunity to have it return to use in our community.
The sign is installed and we're having a ribbon cutting ceremony on Saturday, April 18th at 1pm at the site where the new sign will be installed (along River Road, between Canyon 7 and Rio Nido Roads). Join if you can!
You can donate to the FRN general fund by clicking on the "donate" button below or sending a check to FRN at PO Box 184 in Rio Nido.