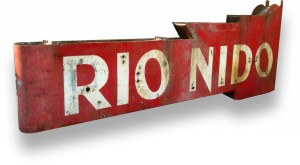 History of the Rio Nido sign 
By Alexandria Goodman
Clare Harris (now 92 years old), whose family owned the Rio Nido business district from 1928 to 1953, says that sometime around 1939 or 1940 (before the war) his dad, Harry Harris, had the sign made by someone in Santa Rosa. They hung it on the tree across from the old Rio Nido post office which was then located on the other side of River Road from the entrance to Rio Nido (the pole that is hung from still sticks out of that tree today). As Clare says, "You didn't need a permit to hang a sign like that over the road, in those days."
At some point later the County asked them to take the sign down and the Harris family talked them out of it, suggesting it was 'grandfathered in' and sufficiently stable with the extra cable they had as support of the end of the sign'. The County consented to this, saying if it ever comes down, it needs to stay down.
When did it come down? In about 1967, when the Grateful Dead was in town to perform at the Rio Nido Dancehall. Something on one of their vehicles or trailers had a high clearance which hit the sign and knocked it down off its post.
Friends of Rio Nido and the sign committee are working on getting this sign restored and installed back along River Road. Please consider donating to restore this bit of history.
Send a check to:
FRN–Sign Restoration
PO Box 184
Rio Nido, CA 95471 
or you can use Paypal button  (Please note your donation if for the the sign restoration.