Rio Nido Painter of Warm and Genteel Art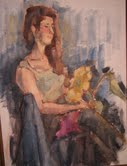 From portraits of a woman holding a sunflower like an infant to a vintage sports car and a very human angel, all of John Underwood's paintings display a warm and genteel personality, and in some, a sense of humor. His humor is also displayed regularly in his everyday life (he does a remarkable imitation of Arnold Schwarzenegger).
He's been painting off and on since the 90s but he has been drawing since he was a child. He's had no formal training in art, but has taken several workshops, which have added to his development: porchade landscapes with Kevin McPherson, portrait painting with Bob Gerbracht and his favorite, "Drawing the Clothed Figure" with Petaluma artist, Sandra Speidel. He also says that DVDs and books are an excellent way to learn art.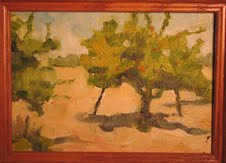 The mediums he uses are acrylic and water miscible oils for his paintings and charcoal and graphic for his drawings. He likes to paint still life and small format landscapes but his favorites are portraits and figurative subjects. Presently he is working on an oil portrait of a friend.
His favorite artists are John Singer Sargeant, Degas, Moses and Raphael Soyer, Robert Brackman, Mary Beth McKenzie, Aaron Coberly. The one he likes the best, however, is Ron Hicks, who conveys," the emotional and interior life in his work."
John's educational background includes a MA in English, linguistics and ESL specialization. When he got tired of teaching he took tech classes in Silicon Valley. His career path has included computer tech, technical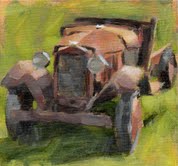 writing, and software QA. He also is multi-lingual in French, Spanish, Portuguese, with a smattering of Thai and Japanese.
Besides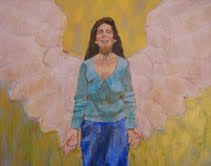 painting and drawing, John is a cyclist and enjoys books on philosophy. He has joined a philosophical discussion group which meets in Santa Rosa.
As far as those who have been most supportive of his work he credits former Pegasus director, Robert Wilson, who helped him with his first show at the old Pegasus Theater in Monte Rio, and successful West County artist, Beverly Bird, who assisted John in displaying his art on her display panels at the Rio Nido Art and Crafts Festival. He also includes the writer of this article in encouraging him in his work.
Where is his art headed, I asked him. He says towards planned studio paintings of portrait and figurative subjects.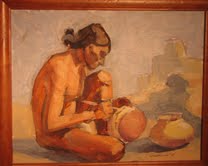 When I asked him about his philosophy of art he said, "I want my paintings and drawings to give the sense of life I found in the subject. I want the lines and brush strokes to be seen, like a painting and not a photograph."
For more information on John or his paintings, email him johnunderwood58@yahoo.com or find him on Facebook at https://www.facebook.com/john.underwood.5209