Howard Dernberger
His Art Lamps Delight
Howard Dernberger's lamps are unique and elegant. Made out of household objects, he's been constructing them since he was 12 years old and in 54 years he's created 470 original pieces. He uses household objects that no longer work and he finds them at yard and estate sales as well as antique stores.
When I asked him what prompted him to make a lamp out of a food mixer, an old taxi meter, a Kodak bellows camera, and a brass trumpet, he said, "I've always found everyday objects not only useful but beautiful. There comes a time when things are no longer functional, but that doesn't diminish their beauty. I've found a way to give them new life, retaining their beauty but with a new function."
Howard has always loved lighting and as a child insisted on being the one to turn on the lights in the house. He was born in Santa Rosa and grew up in Van Nuys, California. He had artistic ambitions early on and at 6 started copying comics in the Sunday newspapers. He won awards for his art in high school and took every art class he could at Pierce and Valley Jr. Colleges.
Before moving out to West County, Howard and his partner lived in San Francisco. He loves living in Rio Nido now and his home is lighted by many of his original pieces. He also re-cycles old lamps and re-wires them to use in his home.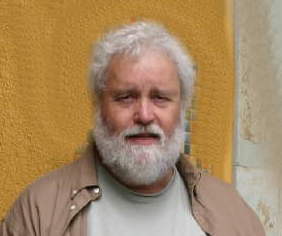 Besides making lamps, Howard still does remodeling, advising his customers on lighting, of course. He even worked the light board for three plays performed at Pegasus Theater in Monte Rio.
He sells his lamps at Glass Works in Occidental. You can see more of his works of art at his website, 1lightartlamps.com.