www.rionidoroadhouse.com 14540 Canyon 2 Road (707)869-0821
    FRI 3 APR 6:00 pm ~ Willie Perez kicks off our new "First Friday" with his folk, blues and pop! Come eat dinner to his soothing sounds and even dance a little if you wish. Asking $3 donation.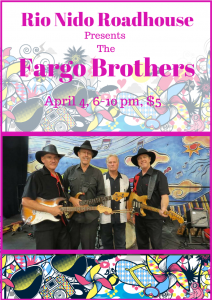 SAT 4 APR 6:00 pm ~ Find the fun Fargo Brothers on our indoor "stage" with rock, blues, rock & roll, and their originals. There's no Fargo in the band and the guys aren't brothers, though they act it sometimes!
    SUN 5 APR 9:00 am ~ Easter Day at the RNR is always remembered for its wonderful Brunch, the Annual Peep Fling Competition, and the Diorama contest. OH, and the hilarious Easter Egg Hunt and other kid contests! Come on out for a really great family fun day!

Have you noticed how beautiful the lawn looks right now? It's still green from that last bit of rain we had–but it won't look like that for long. In the interest of conserving water, we will do our part and not pour that precious liquid onto the lawn. We will save 1000's of gallons, really. We'd rather have it in the pool than on the lawn. Bear with us and/or pray for rain!
Don't forget–parking is on the side and around the back. You'll notice lots more spaces back there. It all belongs to the RNR. Share it, take care of it. Thanks!