The community of Rio Nido and FRN have a fundraising task in front of us to close the gap between the generous grants we received from the Sonoma County Board of Supervisors, and our total sign costs. Some excellent progress has been made on fundraising, and some updates on the not-yet-quoted costs that were anticipated to be $2,000 or more…As of December 21st, we had received $655 in donations, and needed more than $4,200 in donations.  Since that time:
The official estimate for the lane closure has come in at an affordable $400, thanks to the generosity of the owner of Von Renner, Jeff.  (We had been warned by others to  anticipate possibly more than $2k for these costs!)  A huge thanks to Von Renner!
The estimates we have for the re-installation of the sign (on a pole, in concrete, big trucks and augers involved) put us at $4,275.47 over our remaining grant funds.
Additionally, there are two more estimates pending (one for lane closure, the other from the refurbisher for storage fees given the extensive time it took us to obtain the County permit) which could total another couple of thousand dollars.
We have received a strong showing of support already in donations for the sign. Given the latest details on our total costs, we have already achieved 24% of our fundraising goal! HUGE thanks to our generous donors.
We need some additional assistance to fund the final phases of this project — even just $10 or $20 each counts towards the goal.  Here's an updated chart with more details on what is included (since this project involves quite a lot more than many not on the Sign Committee would expect):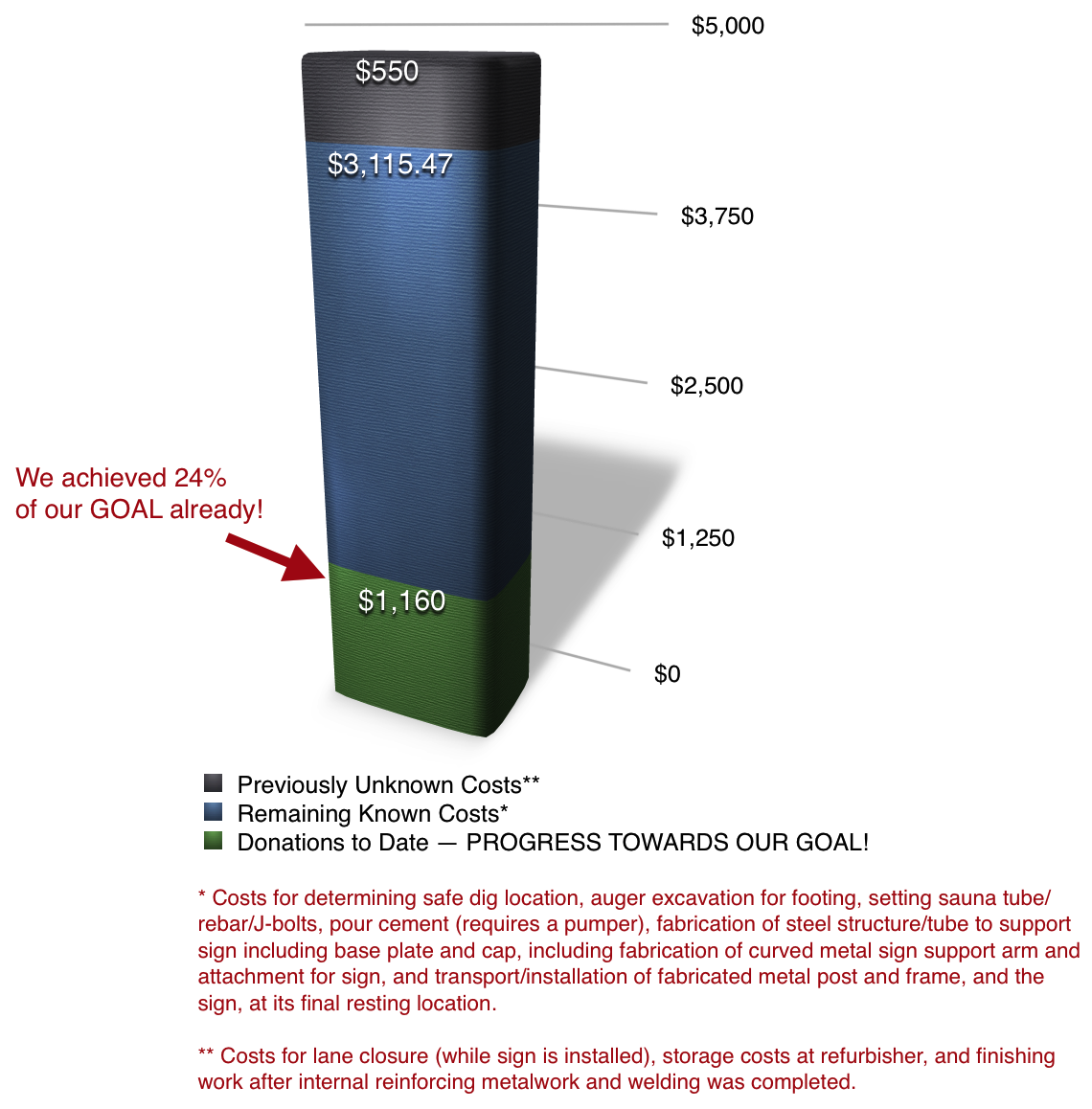 A REMINDER ON THE GOODIES, If you donate…
$50 or more, you'll get an FRN patch,
$250 or more, you get both, 

and

we will thank you publicly at the dedication ceremony and in associated announcements!
Feel free to email us with questions, or you can donate by clicking on the "donate" button below, going to our RN sign website, or sending a check to FRN at PO Box 184 in Rio Nido.
FRN is a 501c3 so your donation is tax deductible.
Finally, another shout out to our sign refurbisher, Dick, from Econoline Signs, who made a generous donation by way of reducing the prices for his professional services (i.e. an in-kind donation).