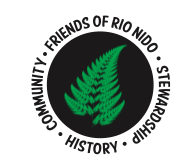 SUN SEP 25 11:00 am – Noon
Friends of Rio Nido Member Meeting at the Bruno Farnocchia Park between the Rio Nido & Canyon 7 Roads.  All residents are welcome. Share concerns and have your voice heard. Great resources, guest speakers and special presentations. We hope to see you there! Friends of Rio Nido is a non-profit organization dedicated to the History, Stewardship & Community of Rio Nido.
www.friendsofrionido.com to sign up for your free membership and more information.

Follow @rionido on Instagram and #rionido to share your Memories that Linger!