www.rionidoroadhouse.com 14540 Canyon 2 Road (707)869-0821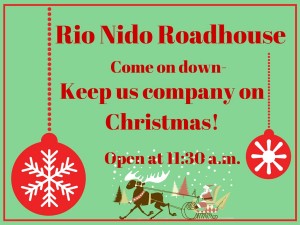 Christmas Day FRI 25 DEC

11:30 a.m. Join us,  keep us company. Have some good cheer!

SAT 26 DEC Friend Levi Lloyd will entertain with the blues. Upbeat tunes, too!

New Year's Eve THU 31 DEC

A masquerading and rollicking party with the THUGZ! $15 cover + appetizers all evening. Costumes welcome!



New Year's Day FRI 1 JAN

10:00 am BRUNCH  and On New Year's Day, we'll be serving a sumptuous BRUNCH beginning at 10 a.m. PLUS, you can watch five college football bowl games–Outback, Citrus, Fiesta, Rose, and Sugar Bowls! 

Check out Events on www.rionidoroadhouse.com for bands in January.