Saturday, July 19th 1:00 pm friends and neighbors honor the life of Vic Barfield at the HOA Picnic area. Bring some food + drink, good stories and memories! Scroll down to next post for more info.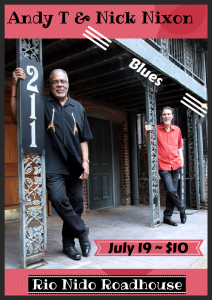 6-10 pm The Rio Nido Roadhouse welcomes back Andy T. and Nick, this time on the outdoor stage with dance floor – perfect for dancing to their Nashville Blues! $10 cover. Full bar, restaurant, billiards, horseshoes, sports TV and that  awesome swimming pool. 14540 Canyon 2 Road www.rionidoroadhouse.com
Sunday, July 20th from 9:00 am – 11:00 the RNHOA is hosting a Pancake Breakfast at the Picnic Park (next to the PeeWee Golf Course between Rio Nido Road and Canyon 7). Even if you're visiting, come meet the other guests and folks of our hamlet! $7 person.