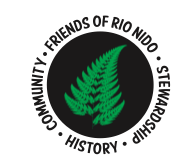 A three member, independent FRN Election Committee has been established to oversee the FRN Board election on June 14th, 2014. All correspondence regarding the election process, while sent via the FRN email template for consistency, is generated from the Election Committee and is independent of the sitting FRN Board. The first step in the election process starts today!
There will be three FRN Board seats available. The three candidates with the highest vote counts will be elected to the FRN Board and will serve two year terms.
Interested voting Members are invited to fill out and submit their candidate application form to: FRN Election Committee, PO Box 184, Rio Nido, CA 95471. The candidate filing period is open from April 25th to May 9th. After the close of the filing period, candidate applications will be available for review on the FRN website. The Membership will have an opportunity to meet the candidates before the start of the FRN Member Meeting on May 17th, 2014.
Election ballots and voting instructions will be sent via this email distribution list no later than May 20th, 2014. All ballots must be received by the FRN Election Committee no later than June 13th, 2014. They will be counted at the June 14th FRN Member and Election Meeting. No ballots will be accepted at the election meeting.
For questions or additional information, please contact FRN Committee Chair Ingrid.
Thank you for your participation,
The FRN Election Committee