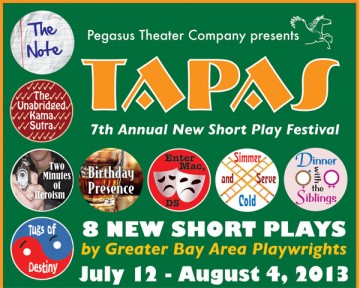 For its seventh annual season Pegasus Theater's Tapas New Short Play Festival is "going local" once again to bring Sonoma County audiences another batch of original plays from northern California playwrights, July 12 through August 4.
Admission is $15. Every Saturday is party night, and they'll be offering local wine for sale. The final performance, Sunday August 4, will be a fundraising gala, with champagne and tapas, for $30. For reservations and more information please call the box office at 707-583-2343 or visit their website.
Pegasus Theater is located in the vintage Rio Nido Lodge, on Canyon Two Rd.