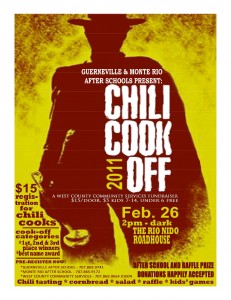 Don't miss the 2011 Chili Cook-Off–presented by Guerneville and Monte Rio After School on February 26 at the Rio Nido Roadhouse starting at 2pm. The cost is $15 at the door, kids 7-14 are $5, and under 6 are free.
Interested in showing off your chili? Pre-registration is $15–just call one of the following organizations to sign up: Guerneville After School 707-869-9741, Monte Rio After School 707-865-9172, or West County Community Services 707-869-0654×1004.
This is a West County Community Services Fundraiser.