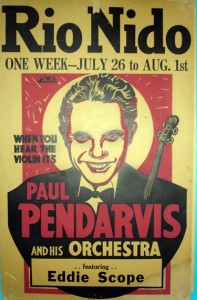 The North Bay Bohemian published a story about Rio Nido, the Rio Nido Lodge, and Pegasus theater this week.
"Most residents seem to agree. 'Rio Nido is one of the most beautiful places in the world,' asserts [Dennis] Judd, 'with the incredible redwoods and the Russian River. It's a gorgeous spot, and the Lodge is a great building—it just hasn't been utilized to its fullest potential in a long, long time. My hope is that, one way or another, the Rio Nido Lodge will be a place for people to come and heal, just as the town of Rio Nido is healing itself.'"
"It's a Wonderful Life" presented by the Pegasus Theater runs through Sunday, December 19. Friday and Saturday evening performances start at 8pm. Sunday matinees begin at 2pm. General admission on Saturdays and Sundays is $15 and $5 for children under 12. Fridays are pay-what-you-can. For reservation and ticket information click here.
Thanks to Claire Harris and Stephen Pizzo for sharing this vintage poster with us.