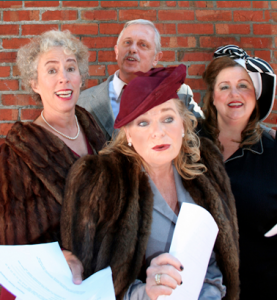 Don't miss "It's a Wonderful Life" presented by the Pegasus Theater starting December 3.
"It's Christmas Eve 1947 at the Rio Nido Lodge, where some of Hollywood's finest actors have gathered to broadcast a special Lux Radio Theater version of one of America's most beloved movies, It's a Wonderful Life, the heart-warming story of George Bailey, a small town man with a very big heart."
The production runs Friday, December 3, through Sunday, December 19. Evening performances Fridays and Saturdays are 8pm, except for Saturday, December 4, when the curtain will rise at 8:30pm to allow time for the Parade of Lights in Guerneville. Sunday matinees begin at 2pm. General admission on Saturdays and Sundays is $15 and $5 for children under 12. Fridays are pay-what-you-can. For reservation and ticket information, click here.